Ever since I was a kid, I have always loved the adventure of travel—the unknown, something different, something new. And I still feel the same way today. I find myself ready to explore the world in vibrant colours, to visit new destinations that will stimulate my adventurous personality. Learning to be a flight attendant has been a dream course for me. With a strong desire to commit to living my dream, I enrolled myself in one of the most reputable travel and tourism colleges here in Canada and it has been one of the best decisions I've ever made.
Studying at Canadian Tourism College opened the door to an extraordinary international career. Taking the flight attendant program provided me with all the tools and knowledge I need in the industry. It opened my world to a career full of fun, excitement and travel opportunities. From day one, my lovely instructor Leah told us exactly what to expect once we were in the industry and always went above and beyond to make sure we could apply the information that we learned. She had so much knowledge about the industry and always brought her experiences into teaching. Every day, she provided us with useful and realistic material for our future.
There are many things that I enjoyed while studying my course—everything from basic first aid and how to deal with troublesome passengers, to in-flight emergencies and ensuring the primary focus of a flight attendant crew is the safety of the passengers on board. We had mock interviews to test our interview skills and help us clarify responses to certain questions, which allowed us to work on areas where we may have weaknesses. I learned about different tourist attractions, IATA codes, and developing excellent customer service skills. We also went on a field trip, where we experienced the art of a variety of cultures, which made us more sensitive and knowledgeable about the traditions and ways of people from different origins.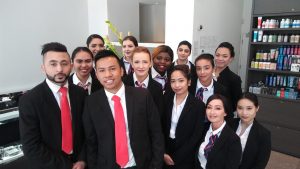 I believe having self-awareness plays a vital role in a flight attendant job. Building up your leadership, discipline, and interpersonal skills, and the ability to work under pressure are some of the characteristics you'll develop while taking this course. It sets you up for success, as instructors like Leah prepare you for the real world that you will encounter once the 12 week program is completed.
Here are just a few of the course topics covered in the program:
Airport Familiarization
Assisting Travelers with Disabilities
Aviation Company Training
Basic Food Safety Training
Cabin Firefighting
Cultural Seminar
Emergency Procedures Training
First Aid Training
Introduction to the Airline Industry
Onboard Service Procedures
Personal Awareness
Professional Development
Self-Awareness
Safety & Service Announcements
Serving it Right
Student Project: Team Building
We still have 6 weeks left of our program and I am beyond excited to learn more and develop my knowledge in all of the listed topics that will give me my first class ticket to an airline career. Look no further when choosing an institution. In my experience, Canadian Tourism College will exceed your expectations; delivering the perfect student experience as well as giving all the support and help you need while you're on course. Give your dream a chance!