Important Notice: All graduation ceremonies will be delayed until the COVID-19 situation has subsided. At this point in time, we are unfortunately unable to provide any forecasted date for our next ceremony. Any recent and future graduates unable to attend a ceremony due to COVID-19 will be invited to attend the next ceremony. Students do need to note that this in no way affects student's ability to graduate. Students can still receive their diploma/certificates and official transcripts as soon as they have met the graduation requirements for their program.
---
Graduating from any program at CTC requires focus, hard work and an unwavering determination to succeed. Because of this, CTC relishes the occasion to celebrate our graduate's success by holding graduation ceremonies where grads will don their cap and gown and have the opportunity to cross the stage. Review the information below for details on our graduation ceremonies.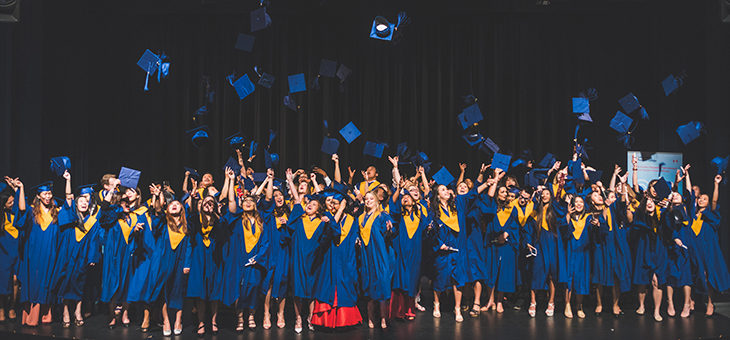 ---
When do graduation ceremonies take place?
CTC graduation ceremonies generally take place twice per year, on a Wednesday afternoon. The events are usually scheduled the second or third week of the month, which is of course dependent on venue availability. The event usually takes place from 3pm – 5pm and includes a graduate precession and a valedictorian nominated by the College's faculty.
---
Who can attend graduation?
Recent graduates and students who will be graduating within 1-2 months of the ceremony are eligible to attend. This means the student must have fully completed their program (including work experience) or be scheduled to fully complete their program (including work experience) within 1-2 months of the event. Graduates who were unable to attend their original ceremony date may also request to attend a later event up to 1 year after graduation. It is the responsibility of the graduate to know when they are scheduled to complete their studies and what ceremony they would therefore be eligible to attend. If unsure, students should contact the College.
---
When can I confirm my RSVP for an upcoming ceremony?
The College opens the RSVP window for graduation ceremonies 8 weeks before the event is to take place. The RSVP period is for 6 weeks and closes 2 weeks prior to the ceremony (usually the end of the month before graduation). Graduates should actively pay attention to the College's website, social media platforms, and communications for news that the RSVP window is open. It's up to the graduate to confirm if they wish to attend graduation by submitting an RSVP during this period.